Staff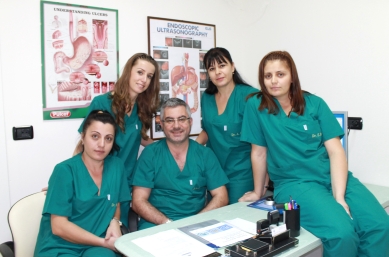 Phone: +355 4 23 60 067 (8:30 - 16:00)


Cell.: +355 69 60 15 018


contact@altincekodhima.com
Leave an Appointment




Our staff

of the endoscopy unit is the perfect example of how 15 years of medical practice should be. Our team is dedicated to the consistent improvement of our patients' health and well being. Changes at our office occur after each comment and suggestion from our patients.

We offer
- Colon cancer screening, upper endoscopy (video-gastroscopy), and therapeutic endoscopy procedures:
- Abdominal Ultrasound for liver, gallbladder, spleen, pancreas, kidney, bladder, prostate, breast, thyroid gland.
- EUS endoscopic ultrasonography for Pancreas, biliary tract, tumor staging of gastrointestinal tract (esophagus, stomach, rectum)
- ERCP
- Polypectomy, schlerotherapy of gastrointestinal hemorragy and other gastroenterology related tests.

Procedures are performed in office by highly qualified board certified gastroenterologist by Ministry of Health.

Our anesthesiologists ensure that every procedure is made absolutely painless.
Our facilities are luxuriously equipped and staffed with caring, responsive, well-trained individuals who are considered as friends by our patients. Every comment and suggestion is utilized to create a truly interactive experience as improvements are made.