Chronic Pancreatitis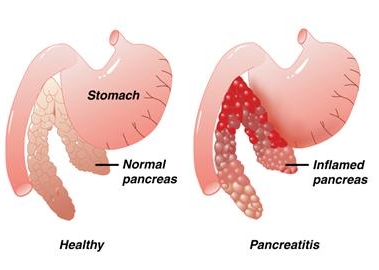 What is Chronic Pancreatitis?

Pancreatitis is an inflammation of the pancreas. The pancreas is a large gland behind the stomach and close to the duodenum. The duodenum is the upper part of the small intestine. The pancreas secretes digestive enzymes into the small intestine through a tube called the pancreatic duct. These enzymes help digest fats, proteins, and carbohydrates in food. The pancreas also releases the hormones insulin and glucagon into the bloodstream. These hormones help the body use the glucose it takes from food for energy.

Normally, digestive enzymes do not become active until they reach the small intestine, where they begin digesting food. But if these enzymes become active inside the pancreas, they start "digesting" the pancreas itself.

Gallstones and Pancreatitis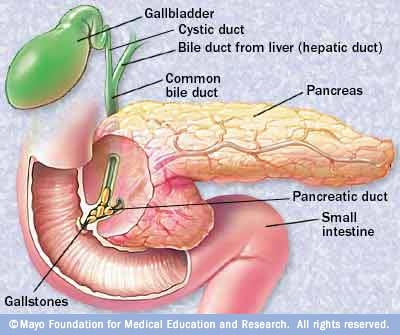 Gallstones can cause pancreatitis and they usually require surgical removal. Ultrasound or a CAT scan can detect gallstones and can sometimes give an idea of the severity of the pancreatitis. When gallstone surgery can be scheduled depends on how severe the pancreatitis is. If the pancreatitis is mild, gallstone surgery may proceed within about a week. More severe cases may mean gallstone surgery is delayed for a month or more.
After the gallstones are removed and inflammation goes away, the pancreas usually returns to normal.


Chronic Pancreatitis

If injury to the pancreas continues, chronic pancreatitis may develop. Chronic pancreatitis occurs when digestive enzymes attack and destroy the pancreas and nearby tissues, causing scarring and pain.
The usual cause of chronic pancreatitis is many years of alcohol abuse, but the chronic form may also be triggered by only one acute attack, especially if the pancreatic ducts are damaged.
The damaged ducts cause the pancreas to become inflamed, tissue to be destroyed, and scar tissue to develop.

The main causes of chronic pancreatitis are:

- alcoholism
- blocked or narrowed pancreatic duct because of trauma or pseudocysts have formed
- heredity
- unknown cause (idiopathic)

Damage from alcohol abuse may not appear for many years, and then a person may have a sudden attack of pancreatitis. In up to 70 percent of adult patients, chronic pancreatitis appears to be caused by alcoholism. This form is more common in men than in women and often develops between the ages of 30 and 40. Hereditary pancreatitis usually begins in childhood but may not be diagnosed for several years.

A person with hereditary pancreatitis usually has the typical symptoms that come and go over time. Episodes last from 2 days to 2 weeks. A determining factor in the diagnosis of hereditary pancreatitis is two or more family members with pancreatitis in more than one generation.

Treatment for individual attacks is usually the same as it is for acute pancreatitis. Any pain or nutrition problems are treated just as they are for acute pancreatitis. Surgery can often ease pain and help manage complications.

Other causes of chronic pancreatitis are:

- congenital conditions such as pancreas divisum
- cystic fibrosis
- high levels of calcium in the blood (hypercalcemia)
- high levels of blood fats (hyperlipidemia or hypertriglyceridemia)
- some drugs
- certain autoimmune conditions


Symptoms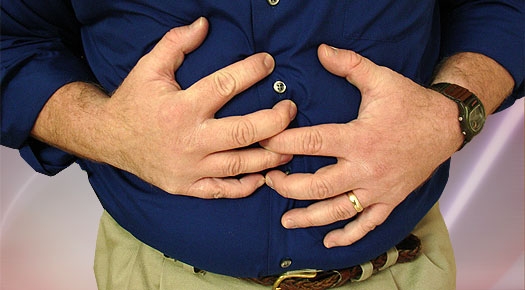 Most people with chronic pancreatitis have abdominal pain, although some people have no pain at all. The pain may get worse when eating or drinking, spread to the back, or become constant and disabling. In certain cases, abdominal pain goes away as the condition advances, probably because the pancreas is no longer making digestive enzymes. Other symptoms include nausea, vomiting, weight loss, and fatty stools.

People with chronic disease often lose weight, even when their appetite and eating habits are normal. The weight loss occurs because the body does not secrete enough pancreatic enzymes to break down food, so nutrients are not absorbed normally. Poor digestion leads to excretion of fat, protein, and sugar into the stool. If the insulin-producing cells of the pancreas (islet cells) have been damaged, diabetes may also develop at this stage


Diagnosis

Diagnosis may be difficult, but new techniques can help. Pancreatic function tests help a doctor decide whether the pancreas is still making enough digestive enzymes. Using ultrasonic imaging, endosonography EUS, endoscopic retrograde cholangiopancreatography (ERCP), and CAT scans, a doctor can see problems indicating chronic pancreatitis.

Such problems include calcification of the pancreas, in which tissue hardens from deposits of insoluble calcium salts. In more advanced stages of the disease, when diabetes and malabsorption occur, a doctor can use a number of blood, urine, and stool tests to help diagnose chronic pancreatitis and to monitor its progression.


Treatment

Relieving pain is the first step in treating chronic pancreatitis. The next step is to plan a diet that is high in carbohydrates and low in fat. A doctor may prescribe pancreatic enzymes to take with meals if the pancreas does not secrete enough of its own. The enzymes should be taken with every meal to help the body digest food and regain some weight.

Sometimes insulin or other drugs are needed to control blood glucose. In some cases, surgery is needed to relieve pain. The surgery may involve draining an enlarged pancreatic duct or removing part of the pancreas.

For fewer and milder attacks, people with pancreatitis must stop drinking alcohol, stick to their prescribed diet, and take the proper medications.


Pancreatitis in Children

Chronic pancreatitis is rare in children. Trauma to the pancreas and hereditary pancreatitis are two known causes of childhood pancreatitis. Children with cystic fibrosis, a progressive, disabling, and incurable lung disease, may also have pancreatitis.